EZ-Press™ Portable & Compact Travel Iron - 2019 Iron Of The Year
$37.95

$37.95

Save

$57.04
---
---
"Always

 

Look Sharp!

 

Finally, An Easy

 & Quick Way To Iron Your 

Clothes Anywhere With

 

Easy-Press™

"
Easy to use at any time! Easy to carry!

Lightweight & travel-friendly
No water needed
6 Adjustable modes to use on all fabrics
If you're constantly on the-go or traveling a lot and want perfectly creased clothes every time without carrying around big and bulky irons with you, then
 

The Easy-Press™ is the solution

 

to your problem.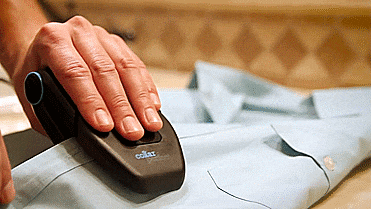 The Easy-Press™ is a portable and foldable electric iron that can fit in your palm. It's perfect and efficient in smoothing out creases at different angles in the fastest amount of time possible.
The Easy-Press™ is designed with style and brilliance and has dual ironing positions, one for quick touches and the other for heavy-duty ironing. It can iron any fabric with convenience as it has multiple temperature modes.
The Easy-Press™ only requires a small space which makes it unique. You can also carry it in your pocket, unlike any other traditional irons and steamers. It's perfect for traveling and can even be used without an ironing board. So, fix your wrinkled clothes and look sharp anywhere on the go with The Easy-Press™ today!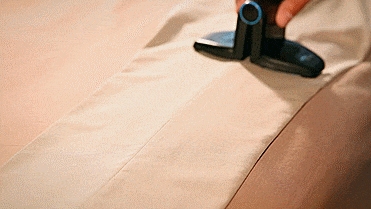 One-Button Operation: Easy-Press™ has a single button which is long pressed to switch the device on/off. The button can also be used to switch between different temperature modes. It operates on electricity and is available in 2 different plug types (US/EU).
Dual-Position: The Easy-Press™ Press iron can be used in two different positions. By spreading out the sides of the iron, you can use it to iron a wide range of clothing like a traditional iron. For small areas such as collars, pockets or trouser legs, simply clip the sides of the iron back to the original position.
Temperature Modes: 6 different temperature modes can be easily switched by pressing the power button for a short duration. These temperature modes are suitable for 6 different types of fabrics like linen, denim, cotton, wool, silk, and polyester. 
No Water Required: Easy-Press™ requires no water, unlike traditional irons. The heating plates of Easy-Press™ provide evenly distributed heat. So, you don't have to worry about the level of water remaining in your iron anymore, which makes Easy-Press™ a hassle-free device.
Quick and Safe: The Easy-Press™ portable iron saves you a lot of time as you don't need an ironing board and it heats up quickly. It is also easy and safe to use as the iron plates are on the inside. It is ideal for quick on the-go ironing.
Premium Quality: It is made with BPA-free ABS material, making it non-toxic and eco-friendly with high-grade aluminum alloy, making it temperature-resistant, strong and durable.
The Easy-Press™ IS ONLY AVAILABLE ON BUZZPRESENTS.COM
See What Our Customers Have to Say!
 Great and powerful little iron
"This is a wonderful little iron. I had some doubts about how hot it would get but I needn't had worried. This little iron is perfect for the purposes I need it. I use it every day for several hours and it just keeps going. This was a very good purchase."
- Danielle A.
  Super Convenient
"Used it yesterday, it was so nice not to have to drag the ironing board and big iron out. very convenient. It heats up very fast and because of the small size cools down quickly when your finished it. Best thing I've bought in a long time."
- Lynn S.
  Very handy for traveling
"Really love this thing, I've been using it for all my business trips recently. Really comes to use when you're on the go and don't have to rely on having to Iron at hotels"
- Oren T.
  Perfect Tiny Iron
"This tiny iron is 100% PERFECT!!!!!! It dos everything my big, fancy iron does and in addition it uses way less space.I would recommend it."
- Alex G.
* Feel free to email us your own feedback at reviews@buzzpresents.com *
SALE ENDS ONCE SUPPLIES RUN OUT  
We're so sure you'll love your Easy-Press™, you have a 30-Day 100% Money Back Guarantee if you don't.
---
We Also Recommend